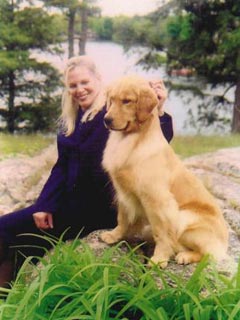 Donna and Paul Ernst are the proud owners of ANTHEM Golden Retrievers.
Our kennel is right next to our home in Newbury, Ohio, in the tranquil and scenic country surroundings of Geauga County. Our dogs get to experience the four seasons, winter to play and lay around in the snow, spring and summer to swim in our pond, and autumn to smell the fresh country air with the fall foliage surrounding them.
ANTHEM, the name for our kennel, was chosen in honor of the beloved melody "The National Anthem." coincidentally, we also live on a street called Music. All of our golden kids have patriotic names. It was Donna's interest in presidential pets in the White House that started it all. President Gerald Ford had a Golden Retriever named Liberty and so that is where our story begins...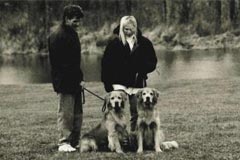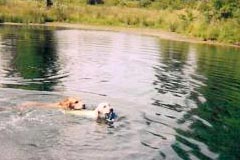 This website is dedicated in memory to our first three Champions: "Liberty" CH. Faera's Liberty Seeker, July 15, 1990 to May 2, 2001, "Patriot" CH. Faera's Thundering Patriot, October 18, 1992 to September 4, 2004 (shown at left), and "Freedom" CH Faera's True Freedom, October 17, 1994 to January 20, 2005.
They made us laugh, smile and cry, and will be forever in our hearts.
We hope you enjoy your visit to our website and meet our ANTHEM kids showing in the conformation arena, playing in our pond, or just being couch potatoes.
Thank you for stopping by,
Donna and Paul Ernst
ANTHEM Kennel
Donna and Paul Ernst
(440)564-9222
Newbury, Ohio